Select the Right Material for
Your Stamped Metal Part
Download our free library of Material Selection Guides
Starting a new metal fabrication project? Make sure you have all the data about how the material will function for its intended application.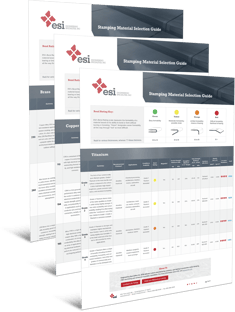 Our library of Material Selection Guides breaks down all the information you need to know about selecting the right material for your stamped metal part. The comprehensive charts include data and metrics for some of the most widely used metals in stamping projects, including:
The material's average cost
The material's bend rating
Tensile strength and yield strength
Material hardness and density
Corrosion resistance
And other metrics
Use the form on the left to download these free PDFs that you can reference for all your stamped metal projects.