Download Best Practices for Metal Stamping Design
Design formulas & best practices that minimize unnecessary costs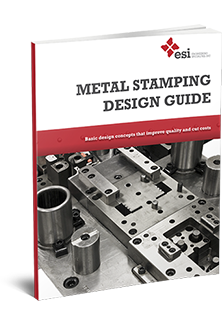 Industry leaders in metal stamping follow a set of design formulas to ensure they meet a project's requirements in performance, aesthetics and, most importantly, cost.
Inside ESI's Metal Stamping Design Guide, we've illustrated these metal stamping best practices and highlight tips to incorporate cost cutting considerations into your part.
You'll learn how to:
Avoid costly errors
Know what to expect in terms of costs and lead times
Design the highest quality components so your application performs at its best
Fill out the form on the right to get your free copy.